Drinks to Enhance your Fall Event…
---
Getting married during cooler temperatures? Incorporate these autumn-inspired recipes into your day.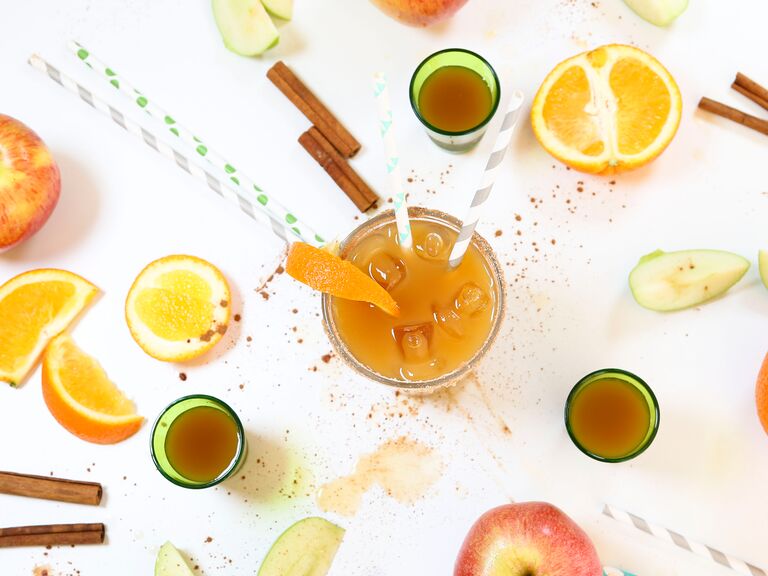 PHOTO BY
SARAH LOVE PHOTOGRAPHY
Chilly fall weather is the perfect excuse to create spiced nutmeg-, pumpkin- and maple-infused signature cocktails for your wedding. But don't think you have to save these recipes just for your wedding day—they're sure to be crowd-pleasers whether served at your shower, rehearsal dinner, or bachelor or bachelorette party. (Or stir one up with your soon-to-be spouse after a marathon wedding planning session!) But the recipes don't stop here. For even more fall cocktail ideas, check out The Nest.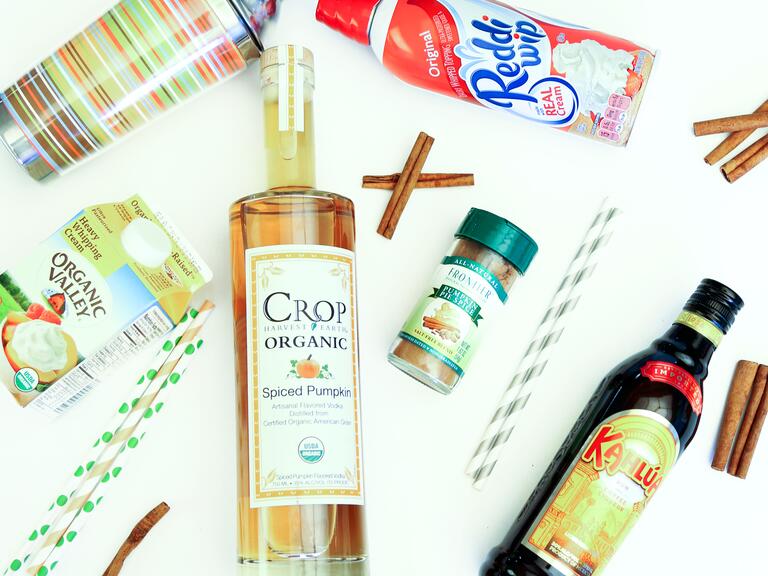 You'll never want a regular White Russian again. Robust Kahlua, decadent cream and a hint of pumpkin come together in a drink that's sure to make a bold impact. It's perfect for an elegant hotel wedding cocktail hour.
What You'll Need:
Pumpkin-flavored vodka (we used Crop Organic Spiced Pumpkin)
Kahlua
Pumpkin pie spice
Ice
Heavy cream
Step 1: Add 4 ounces of the pumpkin-flavored vodka to a tumbler along with 2 ounces of Kahlua and a sprinkle of pumpkin pie spice. Shake to combine.
Step 2: Add a handful of ice to a lowball glass and pour in the drink mixture, filling the glass halfway. Finish the cocktail by filling the rest of the glass with heavy cream. Now just stir and serve!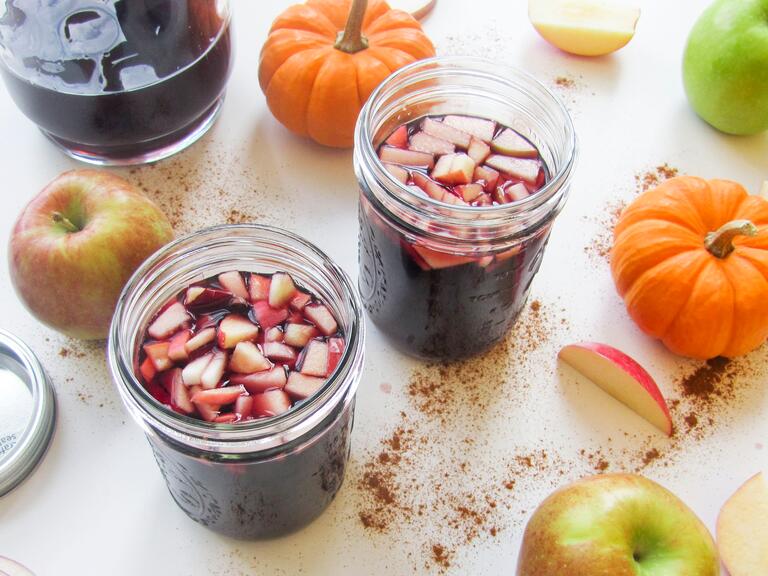 Sangria might have you dreaming of warmer weather, but this spiced-wine-infused version makes an easy transition from summer to fall. Add a splash of apple cider and in-season pieces of fruit for the perfect upgrade on an old favorite.
What You'll Need:
Spiced red wine (we love Witches Brew from Leelanau Cellars)
Brandy
Apple cider
Diced apple slices
Step 1: Pour a bottle of your spiced red wine of choice into a large pitcher.
Step 2: Slowly pour in 3/4 of a cup of brandy.
Step 3: Add 1 cup of apple cider and stir before adding a cup of chopped apple slices to the mix. Let the sangria sit overnight before serving.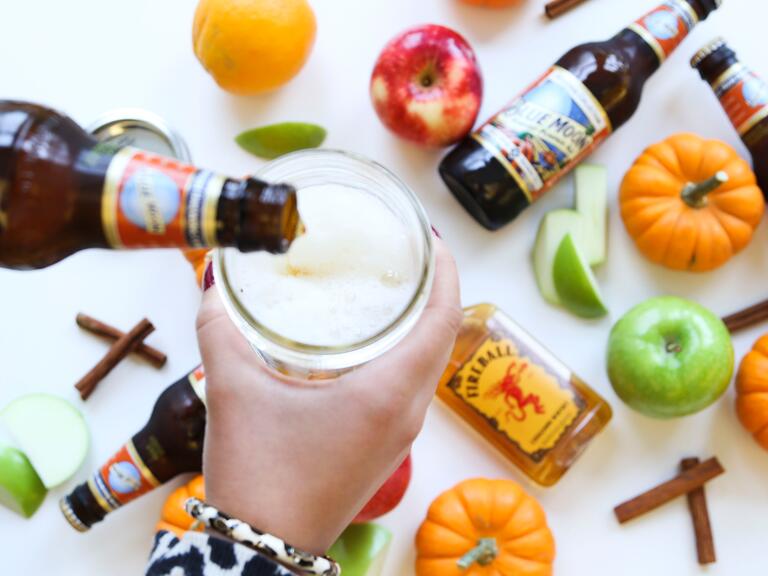 We might've finally found a drink to satisfy that never-ending pumpkin craving. And with only three ingredients on this list, it's a cinch to make too.
What You'll Need:
Blue Moon Harvest pumpkin ale
Sparkling apple cider
Fireball cinnamon whiskey
Step 1: Slowly pour half a bottle of the pumpkin beer into your glass of choice and wait for the foam to settle.
Step 2: Top the beer with about a quarter of a cup of sparkling cider, leaving just enough room at the top to add a splash (or two) of the cinnamon whiskey. Garnish with an orange wedge and enjoy.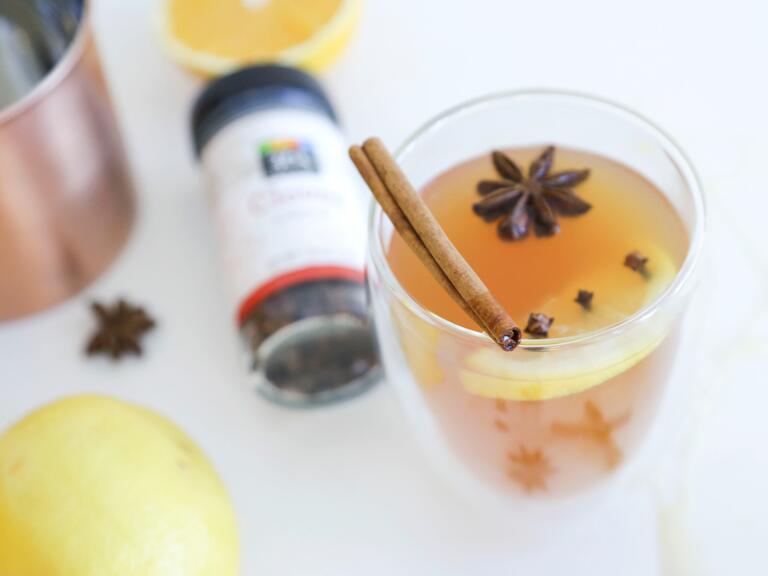 Warm apple cider is already amazing on its own. Why not take this autumn favorite up another notch with a little brandy, star anise and clove?
What You'll Need:
Brandy
Honey
Apple cider
Hot water
Cloves
Lemon wedge
Cinnamon sticks
Star anise
Step 1: Measure out a shot of brandy and add a teaspoon of honey to a small mug.
Step 2: Add 1/4 of a cup of apple cider and top with boiling water.
Step 3: Stick 3 to 4 cloves into a lemon wedge and add to the toddy along with a cinnamon stick and star anise.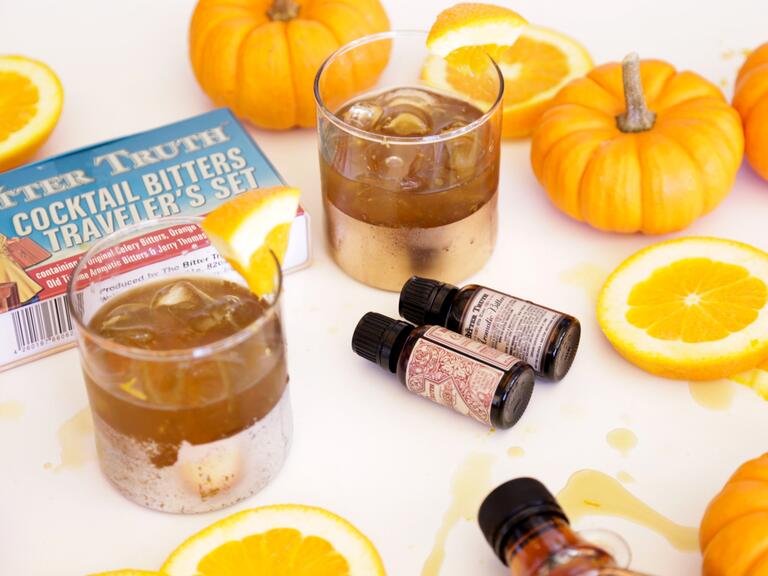 Maple syrup–flavored anything practically screams fall. A sweet spoonful balances the zesty, woody essence of your traditional Old Fashioned—prepare to be amazed.
What You'll Need:
Maple syrup
Orange bitters
Orange wedge
Ice
Whiskey
Splash of club soda
Step 1: Measure out 2 tablespoons of syrup and add it to a lowball glass along with 2 dashes of orange bitters. Squeeze an orange wedge to the mix and muddle slightly before adding a handful of ice.
Step 2: Add 2 ounces of whiskey to the cocktail and top with a splash of club soda before stirring.
Step 3: Top with fresh orange zest and serve.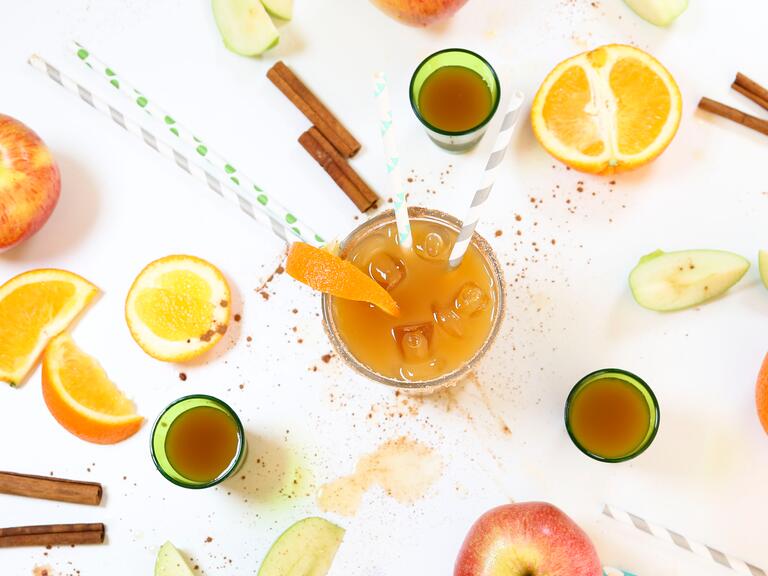 We can't think of a better choice to put your guests in a festive mood than an apple cider margarita. Serve at your autumn bridal shower or fiesta-themed wedding for an instant party starter.
What You'll Need:
Grand Marnier
Gold tequila (we used the 1800 brand)
Apple cider
Orange juice
Ground cinnamon
Sliced oranges and apples
Pure cane sugar
Cinnamon sticks (for garnish)
Ice
Pumpkin pie spice
Step 1: Pour out one shot each of both Grand Marnier and tequila, and add to a cocktail shaker.
Step 2: Add a half cup of cider and a splash of orange juice to the mix. Not a big fan of OJ? It's okay to take it out completely—just don't forget the cider!
Step 3: Add a sprinkle of cinnamon and shake to combine.
Step 4: Before pouring, run an orange wedge around the rim of a glass and dip into a cinnamon-sugar mixture to give your marg a super-sweet rim. (One tablespoon each of both sugar and cinnamon should do.)
Step 5: Pour your apple cider margarita over ice and garnish with either an apple or orange wedge or a cinnamon stick. Add a sprinkle of pumpkin pie spice and serve.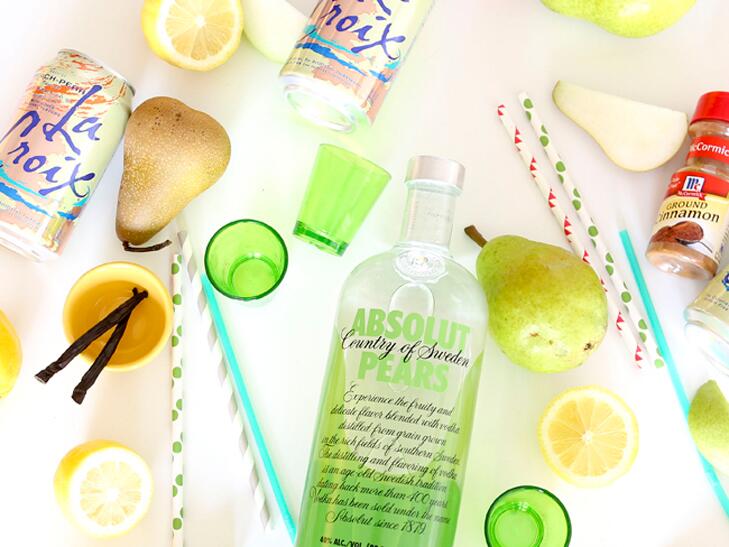 This fizzy, refreshing drink packs a whole lot of sweet flavor. Did we mention it can be made in under five minutes? Done and done.
What You'll Need:
Pear-flavored vodka (we used Absolut Pears)
Pear juice
Vanilla bean
Ice
La Croix Peach-Pear flavored sparkling water
Step 1: To make one drink, pour a single shot of the vodka into a shaker, and mix it with a half cup of pear juice.
Step 2: Place the vanilla bean on a hard surface like a cutting board, and using a paring knife, slice the vanilla bean lengthwise. Then, using the knife (or even a spoon), scrape the seeds out of the inside of the vanilla bean and into the juice mixture. Shake everything to combine.
Step 3: Pour over ice into a highball glass. Top everything off by adding a splash of the flavored sparkling water to your cocktail. Now just add a straw and enjoy!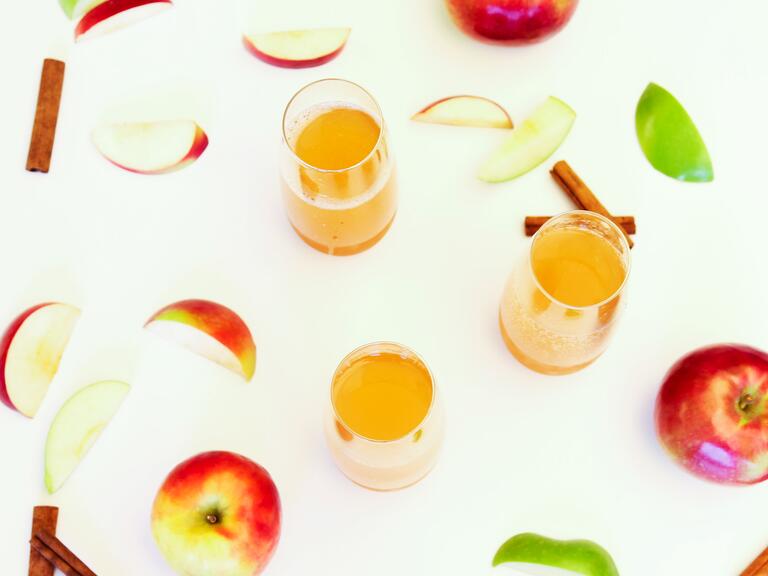 Put a fun twist on your wedding brunch bellinis with crisp apple cider and a little fig-infused vodka. For extra flair, add a cinnamon-sugar rim!
What You'll Need:
Fig-infused vodka/liquor (we used Mahia)
Apple cider
Prosecco
Powdered cinnamon (optional)
Granulated sugar (optional)
Note: The type of prosecco is up to you—just pick a favorite. Doesn't matter if it's pricey or less than 10 bucks.
Step 1: Pour a splash (seriously, that's all you need) of the fig vodka into a shaker and add 3/4 cup of cider to the mix. Shake to combine.
Step 2: Set out your champagne flutes, and pour the cider mixture about 1/4 of the way into each glass. Top with prosecco and serve.
Thank you By Nicole Piquant and www.theknot.com
Shared by Mary Beth Lovejoy, photography
Lovejoy Photography and Heritage Maker
marybeth@lovejoy-photography.com
315.374.0506 or 585.348.7380
---
---