Does the Bride Enjoy Wine?
---
Here's to celebrating your best friend's upcoming wedding and your mutual love for wine.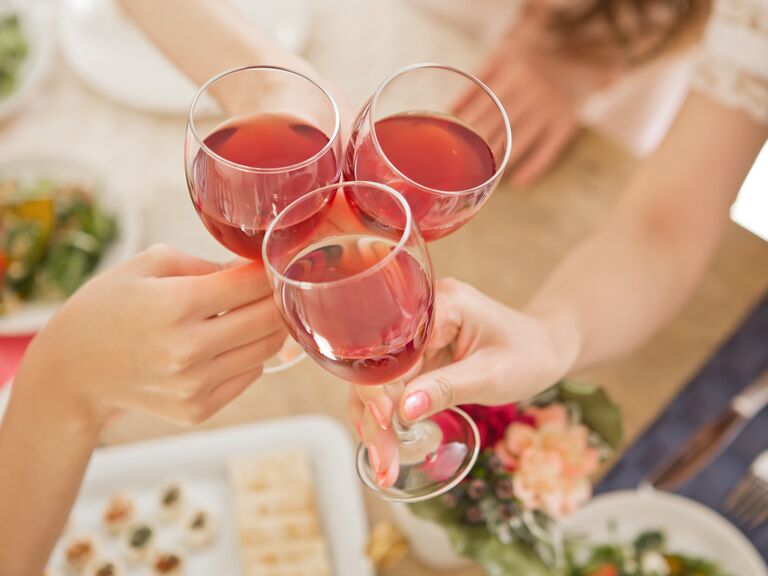 If your bride-to-be BFF is allergic to bridal-shower party games, why not put a boozy twist on the tradition and throw a wine-tasting party instead? Whether her wedding will be at a vineyard (or she's just seriously into vino), you can toast to her milestone while upping everyone's oenophile status. Just follow our step-by-step guide to hosting a wine-tasting event, and by party's end, you'll all be swirling, swishing and sipping like sommeliers.
Wine-Tasting Tip No. 1: Pick the Perfect Location
A restaurant locale sounds fancy and fun, but an at-home shower is more intimate (and cheaper!). You'll have total control over the wine, food and space so you can celebrate for as long as your wine-soaked hearts desire—no last call necessary.
Wine-Tasting Tip No. 2: Personalize the Tasting Technique
A typical wine-tasting setup includes buckets for tossing unwanted wine, tasting grids to record results, and bread sticks or simple crackers to cleanse the palate after each sample. The process can delve into visual, aromatic and tasting tests, but if you want a more fun, interactive atmosphere, try making a game of it and tying the wines to something unexpected. You can have the guests compare wine characteristics to celebrities, TV show characters or even fellow guests, suggests Alyssa Vitrano, a certified viticulturist and founder of Grapefriend, a wine and pop culture website. (Say, a dry but robust red to match Jon Stewart's deadpan sense of humor or a refreshing, delicate white wine reminiscent of Taylor Swift's sweetheart reputation, for example.) "As long as you are teaching people a few fun facts about the wine, people will walk away thinking it was a better way to spend a shower," Vitrano says.
Wine-Tasting Tip No. 3: Find Just the Right Wine
Before you go overboard and select dozens of wines, Vitrano recommends offering four to six different bottles for your wine-tasting party. Too many options can be overwhelming for your guests. As for the grape you choose, Vitrano suggests picking by region (say, Sonoma Valley or Finger Lakes) or specific varietal (think pinot noir or sauvignon blanc). You should also look to the time of year and the time of day, says Dina Cheney, author ofTasting Club. It's best to go for heavier red wines in the winter or the evening and lighter whites in daylight hours and summer days.
Wine-Tasting Tip No. 4: Polish the Menu
Wine was always meant to be drunk with food (really!), and you can't have a bridal shower without some delectable eats. Keep in mind that sugary treats should only be consumed alongside sweet wines, says Vitrano. If you decide on drier wines for the tasting, serve saltier snacks that bring out the characteristics of the wine, and save the desserts for the end of the party to be paired with champagne or sweet sparkling wine. Try a wine-pairing app like Hello Vino to find more specific food-and-wine combinations.
Thanks to Kelley Rowland and www.theknot.com
shared by Mary Beth Lovejoy, photographer
Lovejoy Photography and Heritage Maker
marybeth@lovejoy-photography.com
315.374.0506 or 585.348.7380
---
---